Quadruple Champion Riva
The Story of a Quadruple Champion (below ad)
Ad in Clean Run Magazine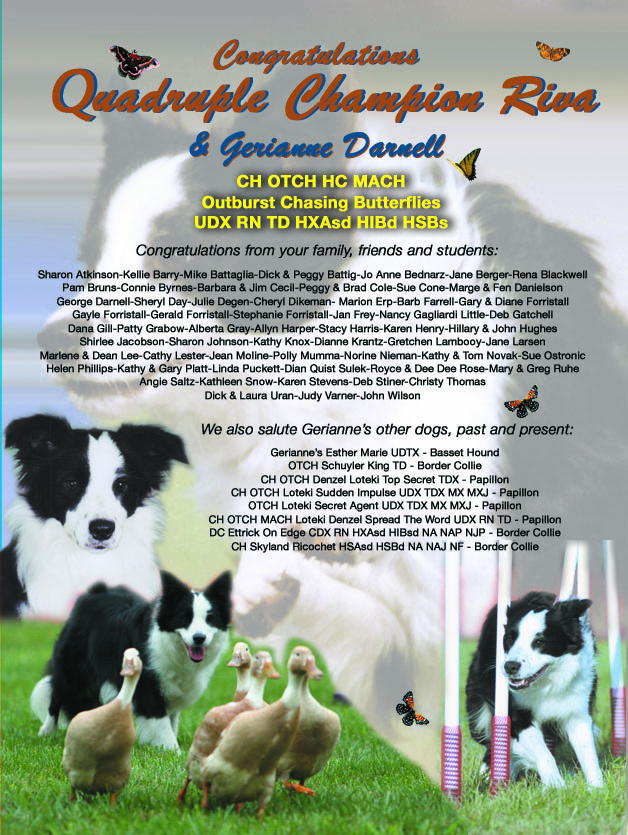 The Story of a Quadruple Champion
by Gerianne Darnell
In October of 1999 I attended the Border Collie National with friends, thinking that I would soon start shopping for another Border Collie puppy. I had lost my first Border Collie, OTCH Skye TD, in 1992, and although I was really involved with the Papillons at the time of his death, I thought even then that some day I would like to have another BC. I met lots of interesting people and dogs at the 1999 National, and on the way home I hoped that in the next couple of years I would find what I was looking for: a dog capable of four AKC Championships.

Shortly after I returned from the BC National, a new person joined my Internet obedience list. We were all introducing ourselves to the new member of our list, and I mentioned that I was just starting to look for another Border Collie. The new member wrote me and said that she knew of a repeat breeding of a litter in Canada; she thought that the first litter had been so terrific, I should really think about a pup in this litter. I figured, oh, what the heck, I'm not really ready right now for a puppy, but what could it hurt to call? HA! Two weeks later, fourteen-week-old Riva made the long airplane trip from Edmonton, Alberta to Omaha, Nebraska. I have always thought that Riva and I were meant to be together, as our relationship blossomed from a chance encounter on the Internet all the way to Quadruple Champion.

I had never shipped in a puppy before, sight unseen, and I was a nervous wreck waiting at the airline counter. And finally, a crate appeared, and I heard "thump, thump, thump" coming from inside of the crate; it was little Riva saying "Hi, mom!" with her tail. We waited to get her out of the crate until we got home, and when I let her out in the yard, and then in to the house to meet the paps, her self confidence was very plain to see. It was like she was saying, "I am Riva, and I am ready for anything that you are, mom!"

Riva was the most mature puppy I have ever had. She didn't go through any of the silly "chew things up" stages that all of my boys have, and she was housebroken in an instant (another thing the boys have no claim to fame for!). In fact, she was loose in the house from the age of eight months, the youngest dog I ever remember giving that kind of freedom to. It's interesting, I have ALWAYS preferred male dogs, in fact, the only other female dog I have ever had was my first dog, a Basset Hound. But Riva has definitely changed my opinions on boys versus girls, at least in the Border Collie breed!

Riva and I started obedience, tracking, and agility training right away. I was finishing up a couple of OTCH's and a MACH during Riva's early years, so sometimes she didn't get as much training as I would have liked, but she did get a lot of exposure to the various sports as a youngster.

Tracking is always the first thing that I do with a puppy, and Riva was the first dog with whom I started some variable surface work right from the get go. I'm really glad now, eight years later, that I did that. She earned her TD as a silly, eight-month-old puppy. On the last leg of her test track we found a glove, pretty much right after the last turn. I looked back at the judges quizzically and they said 'Go on'. Turns out that the tracklayer realized that she had inadvertently dropped one of her own gloves while laying the track, discovering this when she got back to tracking headquarters. The judges made the decision to put Riva and I on the track, and if Riva had difficulty re-starting if she found the "extra" glove, I would get another track. Although Riva was having a lot of fun eating goose poop that day, she did re-start, and about 75 yards later we found the "real" glove, and Riva had her first title, TD.

Riva's next title was her Conformation Championship. She earned her first major at nine months of age and quickly finished at 13 months. The day that Riva finished her CH she was in flaming heat; this was also her first season so she was totally wacko, and she managed to pick up kennel cough on the last day of the circuit! My pap Rumor went HIT out of Utility B the day Riva finished her CH, so it was quite the memorable weekend. I remember walking out to the van as Riva went "hack, Hack, HACK", and I just wanted to get OUT of there before we infected the entire show! None of my other dogs came down with it, so I guess it must have been a mild case, but I was horrified that I had a dog with kennel cough at a dog show.

Riva and I then turned our attention to obedience. She was a smooth little heeler from the very beginning, and she was not the kind of Border Collie that can make a judge nervous :-) She was a happy worker, but she was also serious about her work; one could imagine her in a little business suit with her briefcase, going to work each day. In 2003 Riva was shown 13 times in AKC and UKC novice, earning 12 First Places, one Second Place, and five High in Trials with an average score of 198. The following spring Riva earned her CDX, and she didn't show again in obedience until she had finished both her MACH and her HC.

Riva was ready to show in agility at what I consider a young age, 20 months (my boys can hardly walk and chew gum at that age!). She finished her NA and NAJ in three shows, with six First Places. Her first agility trial was really quite memorable, as the wind was gusting 40 MPH plus, and Riva literally blew off of the A-frame. The judge was astounded and said, your dog just blew OFF, and I'm going to give you a do-over on that! Riva and I quickly made our way through open and then found ourselves in excellent by the time of her second birthday. Riva was always a more consistent jumpers dog then standard, it was just her class; she almost had her MXJ before she finished her AX! As we made our way through excellent, weave poles became a bit of a problem, but only in the ring. Riva was just in too much of a hurry to get on to the next thing, and blowing out at pole number ten became somewhat of a habit. On one particular day she blew a stellar standard run by popping out at pole ten, and I stopped her and very quietly let her know that I was NOT a happy camper, I was REALLY tired of her doing this, and this was NOT acceptable behavior. That was the end of her weave pole problem, I guess I had never "explained" it to her properly before!

Riva was a fun little dog to show in agility, and I do mean little. Being 18 inches tall, Riva competed in the sixteen-inch class with the Shelties. In my area several Shelties who have been on the World Team compete in that class, and often the fastest times of the day come out of the sixteen-inch class. But Riva held her own, almost always placing and sometimes winning the class. Speed points were never a problem for Riva, we were well over the 750 needed when she got her twentieth Double Q for her MACH. Riva had nineteen Double Q's by the first weekend in May of 2005, and I had three chances to finish her at home, at my home club show weekend where I am always trial chairman. But it wasn't meant to be that weekend, as we had a mis-cue here or a dropped bar there. Riva did finish her MACH the following weekend at the same site, but a different club. As I came out of the ring from our victory lap, my fellow club members came around the corner with a beautiful cake that said "Congratulations CH MACH Riva", and out of my mouth came the words, "How old IS that cake?" They had put it in the freezer the weekend before, and they were thrilled they didn't have to cart it around any longer! It was very exciting to be halfway to our QUAD CH goal, and our attention then turned to herding.

The first time that Riva herded sheep she was eight months old; it was the same day she picked up her first CH point. I drove two hours from the show site for my herding appointment, I couldn't wait. Riva went in to the round pen, where the instructor kept her away from the sheep with a long pole. In my innocence, I asked the instructor, "Gee, shouldn't she get to move the sheep around a bit?" I was told NO, she has to have control, control, control. I didn't have a clue about herding, but something told me this just wasn't quite right. Yes, she needed control, but I thought she needed to get something out of it too! Figuring I was wrong in my thinking, I went back to this instructor several times, until I decided that I actually WAS right, and that my dog DID need to "feel" her sheep.

I was then lucky enough to hook up with Kathy Knox, who taught me that it was all about the DOG, and while dogs shouldn't eat sheep, Riva needed to feel what the sheep were telling her and have the opportunity to figure out some of this stuff on her own. In a nutshell, Kathy showed me that I needed to make the right easy, and the wrong difficult in order to help Riva understand what I wanted. I did several four-day clinics with Kathy each year, plus additional private lessons whenever I could. I was so fortunate to be able to work with Kathy, who is truly gifted when it comes to working with herding dogs. I am even more fortunate that Kathy has become a good friend. She and her husband, the legendary Jack Knox, have always been big fans of Riva. I am so lucky to have been able to work with them.

When I went to AKC herding trials, I kept seeing this couple wearing cowboys hats who had a whole string of dogs that they showed. They did VERY well, and they handled smoothly and quietly. They also did a lot of winning, and I wanted to handle like they did! So along with my clinics and lessons with Kathy, I started working with Kent and Lori Herbel. Kent is an amazing instructor; he can come up with things that make you think, wow, I would have never in a million years thought of that! Kent and Kathy have the same general philosophy, but they get to the final destination in a different way. But I knew early on that I had found the two people I was going to listen to, and I am profoundly grateful to them both for all that they have taught me.

When I first started herding, I used to travel 45 minutes to sheep, spend five minutes training my very green dog, and then travel 45 minutes home. I soon knew that in order to do herding well, I needed my own sheep! Before I knew what hit me, I had fenced in 15 acres, had a small barn, a paddock, two arenas, and a bunch of sheep. It wasn't long before I added ducks. Ducks make sheep look like Einstein, by the way! But getting my own sheep really accelerated my learning curve, as I could put in to practice all of the things I was learning from Kathy and Kent.

I have never done a dog sport as difficult as herding. Just when you think you have part of the sport figured out, you find out you really don't have a clue! I started out by entering Riva at the very beginning of the AKC titling process, in Herding Tested (unlike obedience, you can start showing at the very top of the herding food chain in the advanced class, if you want to, but that would not be a good idea for a beginner; compare it to a Novice A obedience person starting out in Utility!). We progressed to Pre-Trial tested, then on to Started Sheep. After we had made our way through Started Sheep, we started over again with ducks.

At one trial in August of 2003, it was over 100 degrees. My pushy dog and the ducks did not see eye to eye, and we retired. Riva walked out of the ring with a mouthful of duck feathers. It was just an embarrassing mess, and I drove out of the trial site in tears. We went back to the drawing board and slowly, over the weeks and months that followed, there started to be more victories than defeats in our herding training and showing. When I finally decided we were ready, Riva and I started showing seriously in the Advanced Sheep class in March of 2006. I was totally amazed when Riva easily finished her Herding Championship that August, at the same trial that had been a debacle for us a few years earlier. The weekend she finished, Riva picked up three majors and ten Herding Championship points, along with three Reserve High in Trials. Riva finished with 26 HC points and five majors. It was one of my proudest moments in dogs, and finishing her Herding Championship that weekend made Riva a Triple Champion.

NOW we could get serious about obedience and really go after the QUAD Championship! Riva had been training in utility for awhile, but it always got put on the back burner while we finished her MACH and HC. The first time we went in the utility ring, in July of 2006, Riva passed gloves, signals, and the moving stand. When I told her to "find it" for the leather article, she went to the chair in front of us and retrieved the metal article. The judge and I had a good laugh. Although we didn't pass our first time in, I was encouraged that our training was starting to pay off.

We did struggle a bit getting our UD, and the third leg didn't come until January of 2007. Riva didn't place on any of her UD legs, but her work was nice enough that I thought that placing was just around the corner. I couldn't have been more right, as at her very next show in February, Riva won a huge Utility B class for 27 OTCH points. I had entered those shows to "see where we were at", and I decided I really liked where we were! The next day we won a big Open B class and went HIT with a 199! So we were well on our way with 37 OTCH points and a UDX leg our first weekend out after the UD.

In the 14 shows after her UD, Riva picked up three High in Trials, a couple High Combineds, 9 UDX legs, and 80 OTCH points. I made a comment to my neighbor and traveling buddy, Peggy, "Gee, this has been a piece of cake", and as soon as the words were out of my mouth, I wanted to take them back ;-) Riva finished her UDX the next weekend out, but the last 20 OTCH points sure didn't come as fast as the first 20 did!

Riva finished her OTCH at my home club show, the Bellevue Dog Obedience Club of Nebraska, on October 28, 2007. The first show of the three day weekend she went High in Trial from Open B with a 198 1/2, but we couldn't show on the second day as the judge takes classes from me. On the third day we won Utility B with a 197 to finish her OTCH. I was so thrilled to finish at home with all of my friends in attendance, at my home club's show where I am not only president of the club, but a life member. Riva is my sixth OTCH, and I realized the week after she finished that each of my OTCH's were finished in a different state! Those states are Iowa, Nebraska, Wisconsin, Missouri, Minnesota, and New Mexico. In the last 25 years or so I've also gotten OTCH points in Kansas, Illinois, Oklahoma, Texas, California, Florida, Colorado, South Dakota, North Dakota, Alabama, Montana, Wyoming, and Arkansas So, I have gotten around over the years, although I sure don't travel like I used to. Maybe I should make it a quest to get an OTCH point in every state, like the people who go to every Major League stadium, or visit every state capitol. Or not ;-)

As I get older, I really enjoy doing the local dog events, and I try to keep my travel down to just a few weekends during each showing season. I enjoy my home, garden, and sheep too much to be out of town a lot! I am fortunate that we have many local events in herding, obedience, agility, tracking, and conformation in my area. It has always been the training that I enjoy more then the showing; the showing just validates the training, which is a reflection of the life-long relationship I have with my dogs.

To finish the Quadruple Championship was such a thrill, especially with my best friend, Riva, at my side. Riva is just a delightful little dog. She loves ALL people, and thinks that humans were put on earth to provide petting, treats, and laps to sit on. Like many Border Collie bitches, she is not particularly fond of other dogs, and she rules my two BC boys with an iron paw. Yet, she was a "seeing eye" dog for my pap Rumor, who was blind the last few months of his life. If Rumor wandered off, I would say, Riva, go find Rumor, and she'd have him located in a few seconds. She kept a close eye on him and let me know if there was a problem.

I think Riva is perhaps the most intelligent dog I have ever had. It makes my heart almost stop to contemplate that she will turn nine years old this summer; as I can not imagine life without her. She is seldom more then ten feet away from me; she is not demanding in the least, she is just "there" in case I need her, and she sleeps at the foot of my bed every night.

As I write this, Riva and I have been working in advanced tracking for about four months. I am very hopeful that we will eventually add "Quintuple Champion" to our resume, but like all of her other titles, it is all about the training and the time spent together. If we get it great, if not, there will be no regrets. Riva is also playing in rally and preferred agility, as she seems to need and enjoy the daily training as much as I do. She oversees the training and showing careers of my younger two BC's, Raymond and his son Rick; you can almost see her roll her eyes at them sometimes. Thanks to all of you who have helped us along the way, cheered our successes, commiserated with our failures, and listened to the occasional whining. It has been a terrific ride with my girl, and I can only pray that we have many more wonderful years together.