Am/Can CH Am/Can OTCH UOCH UACHX
Loteki Sudden Impulse
UDX TDX MX MXJ, AD VAD, EAC-V EJC-V
NGC-V NAC, CL4-FR CL3-HS, Can UDT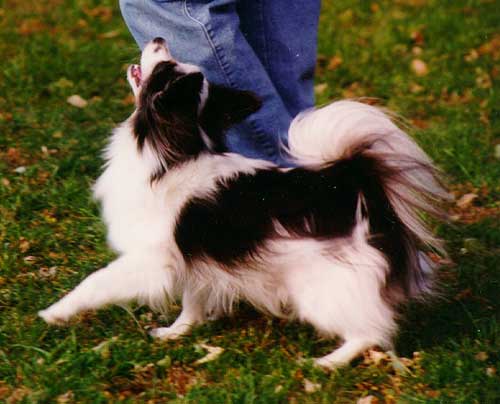 "Zack"
I always like to think that Zack picked me, and not the other way around! I first saw him at 8 weeks old and decided I didnít like the little spot on his nose. Then I saw him at 12 weeks and couldnít take my eyes off of him. His drive, attitude and intensity were very evident even as a young puppy.
Zack earned his Breed Championship at 8 months of age and his Tracking Dog title at 13 months. His average score for his 15 novice competitions was a whopping 198, and he earned 7 High in Trials in Novice Competition.
Zack went on to be one of the most titled dogs of ANY breed, and he is still the only dog to earn the AKC titles of CH OTCH UDX TDX MX MXJ. He held the titles of AKC CH OTCH UDX TDX MX MXJ, CKC CH UDT, UKC OCH ACHX, NADAC EAC-V EJC-V NGC-V NAC, USDAA AD VAD, and CPE CL4-FR CL3-HS.. Zack has been featured in the AKC Gazette and has also been on the cover of the Papillon Club of America national magazine twice along with the Clean Run agility magazine. He earned 39 High in Trials and 25 High Combined scores in his long and successful career. I lost my wonderful Zack on August 22, 2003, at the age of 15 years, 6 months. Please click on the link below to read more about Zack:
Zack's Story - More about Zack's wonderful life.