Am/Can CH OTCH MACH UCDX UAg2
Loteki Denzel Spread The Word
UDX RN TD MX MXB MXJ MJB AXP MJP, AD PDII,
EAC-V EJC-V OAC OJC NGC
TN-N TG-N WV-N, CL4-RFH CL3-S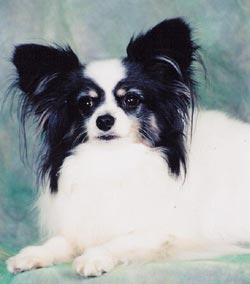 "Rumor"
Our youngest Papillon "Rumor" was an interesting little dog! He was sweet, yet fiesty. He would be kissing your nose and then decide he'd had enough and bite you!
Rumor was a Group Winner and Multiple Group Placer in Canada, owner-handled, and he finished his Canadian Championship in just four shows. Rumor was High in Trial at the 1997 PCA National with a 198 1/2, his first time in the obedience ring. He earned four High in Trial and three High Combined Awards in his career. Rumor was the 2000 PCA Top Obedience Achievement Papillon. Always shown in obedience and agility at the same time, and often at the same show, Rumor was the first Papillon, first Toy Dog, and second dog of any breed to earn the titles of CH OTCH MACH. A highlight of his agility career was placing Fourth out of 78 twelve-inch dogs at the 1998 AKC National Agility Championship.
Rumor was my fifth dog to earn the OTCH title.
January 8, 1994-October 31, 2006